We welcome this guest blog from Matt Lent of 'Game Train'. Matt is a qualified community development worker.  He has worked supporting the growth of cohesive and collaborative communities for over 15 years, ranging from social enterprises to schools, local authorities and residential centres.  For many years he worked as the Director of wide-reaching community projects, and subsequently as the Director of Operations of a national education charity.  Game Train describe their training as 'fun and engaging' .  At Integration Training our embodied approach and creativity training also focus on being engaging and interactive.

Long before the World Wide Web was as much as a glint in Tim Berners-Lee's eye and back when a 'playstation' was where you would find the dressing up box at a nursery, youth workers were already creatively using games to aid 'learning and p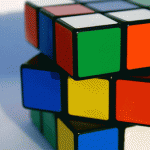 ersonal development'.
Throughout the rapid expansion of the electronic gaming industry people have questioned the impact of computer games on young people.  More recently there is a growing acceptance that these games have a valid and positive educational role to play. The massive popularity of BETT is testament to this as are the numerous studies and research papers on the subject.
As a youth worker and trainer who has used live, inter-active and physical activity for 20 years, it seems to me that the word 'game' has been somewhat hijacked by the likes of Sony and Microsoft, and now after almost three decades people are recognising the value these 'new' games have for, guess what, 'learning and personal development'.
I recently launched a new initiative called, 'GameTrain', which explores how games and game theory can support the development of essential skills for the modern work environment, including effective collaboration, strategic thinking and communication skills. I began to discuss this initiative with a talented young trainer and his ears pricked up immediately.  Before I'd even had the opportunity to explain the concept to him he expressed how keen he was to be involved. It was only after speaking with him for about 10 minutes that I realised his passion lay in computer games, and not the circle games, the action games, the problem-solving games, the psycho-drama games, the collaborative games and the team development games that I was referring to.  His interest faded as quickly as it had peaked.
I began to question why this was.  I have no doubt that it is true that computer games, virtual environments and technology support educational development in many areas, from science to citizenship. However, I have a growing concern that these games are supplanting the more traditional game. I'd even go as far as saying that people have begun to neglect, or worse, disregard the massive impact and value that the traditional live game can offer.  Walk into any youth centre and you're much more likely to witness a 'Pro-Evolution Soccer' tournament than a 'wide-game'.  I believe this has grown out the fear that we may fail to engage with learners (of all ages) unless they are motivated through competition and entertained through fast-moving CGI.
As exciting and engaging as Halo and Call of Duty are, surely they are no match for a group of people bonding, growing and laughing together, in reality.   As a child in the 80s attending youth clubs and summer camps I remember how energised I felt at the prospect of a member of staff facilitating my favourite game. Everyone would shout out what they wanted to play and hope that theirs was the first to be chosen.  Do people think that these types of games simply do not excite anymore?
Well, I train both young people and adults every week and I know for certain the power that well facilitated games can bring to any workshop, but I look at my contemporaries and see hardly any of them using games effectively or productively. One exception to this is within the organisation 'Leap Confronting Conflict' where I work as an associate, but even then all too often when I co-deliver a workshop, colleagues look to me to lead on any game-based exercise.  In a profession grounded in communication and group development I think this is a terrible thing.  Every trainer should have in their metaphorical tool box a wide selection of games and activities that they can call upon at any time to support whatever piece of learning has been identified as necessary, in addition to having the skills to adapt and develop new games to meet need.
It is these indispensible skills and knowledge that the workshop 'GameTrain the Trainers' is working towards disseminating.  Used appropriately and to their fullest games have the power to:
energise
relax
engage learners
create focus
develop teamship
empower participants
create comfort in the space
generate a dynamic atmosphere
introduce and cement learning
draw analogies with real-life
elicit metaphors
create shared outcomes
develop strategic thinking
practice effective communication
All while having fun!
Show me an Xbox game that can do all that and I'll happily incorporate it into my next workshop.
To find about more about 'GameTrain' and the Training the Trainers workshop taking place in April visit www.gametrain.co.uk, e-mail matt@gametrain.co.uk or follow @GameTrainUK on Twitter.
If you liked this article you may like to look at the following:
If your organisation is interested in how our leadership training can help in your workplace then call us on (+44) (0) 7762 541 855 or (+44) (0) 1273 906828.
If you would like to receive the Integration Training newsletter with free tips and news of events please click on the link below.