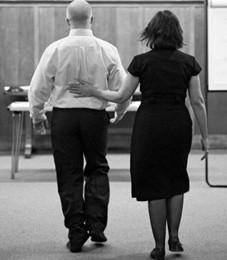 Embodied Training for Coaches, Trainers, Consultants and HR Professionals
Friday 17th January 2014, 10am-5pm
With Francis Briers of Integration Training
Our posture, movement and breathing determine what we think, how we feel and what we achieve. Our physical 'embodied' presence also affects how we engage with and are perceived by others. In fact, most aspects of our work, communication and relationships are embodied.
This is a practical experiential taster session for those who wish to develop these skills in a business or general work context.
What you'll learn:
How the body influences our impact
How to work with the body confidently and safely
Practical embodied tools you can use the next day with clients
About yourself – what is hidden that is limiting your work
About others – how their bodies may be impacting their work
Applications within leadership, stress/change management, team building, coaching and communication training
Practices to develop leadership impact and influence – for yourself and your clients
Techniques to manage pressure, complexity and change, and to develop greater emotional intelligence
How to better 'read' others and employ your intuition
Tips on how to make this work accessible and relevant within a no-nonsense business environment
Who this workshop is for:
Business and life coaches
Business trainers, facilitators and consultants
HR professionals interested in exploring embodiment
Organisational leaders and heads of department
Teachers looking to explore a different domain of learning
Yoga, dance and martial arts teachers looking to apply their skills to mainstream markets
Therapists and alternative health practitioners
Anyone looking to develop their individual leadership or grow as a person
Francis Briers is one of Europe's leading 'embodied' trainers. He has worked alongside Mark Walsh at Integration Training for the past five years, an organisation which specialises in Embodied Leadership and facilitation work. His qualifications include: an honours degree from one of the UK's top drama schools; training in a range of martial arts (including 3rd Dan black belt in Karate); extensive dance and movement work including 5 rhythms, Alexander technique in movement, and Uzazu Embodied Change Facilitation; Hawaiian Temple Style massage practitioner; currently the only Samurai Game facilitator in the UK; and deviser of the 'Somatic Presence' approach to embodied coaching.  His clients include Hewlett Packard, HSBC, The Met Police, LexisNexis, The Academy for Chief Executives, The Global Leaders Academy, and Roffey Park. He is also a trained Interfaith Minister and Spiritual counsellor who has studied spiritual practices and perspectives from around the world. He has published 2 books on personal development and is known for creating learning that balances depth and play, challenge and safety.
To Register:
The cost of this course is £150. Spaces are limited. Make a deposit or make full payment here to secure your place
Venue:  The Ki Centre, Queens Square, Brighton
To find out more contact francis at integrationtraining.co.uk
Videos:
Embodied Approach to Leadership Skills
For further info click here