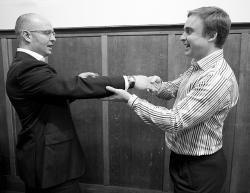 – A free call to find out more about using the body in training and coaching
– Information and Q & A on The Embodied Facilitator Course
This is a call for facilitators of all kinds to learn about using the body more effectively in their work. General theory overview and some quick-win practical tools will be presented. The last 30 minutes of the call will be information about The Embodied Facilitator Course with time for questions.
Who this training is for:
Business and life coaches, trainers, facilitators and consultants
Yoga teachers, dance teachers, complementary health practitioners and martial artists looking to apply their skills to business
People looking to find out more about EFC and get a taste of the course content and lead trainer's styles
Content
– why understanding and working with the body is vital to effective facilitation
– centring tools
– what a map of embodied intelligence looks like
– tips on how to make this work accessible within a business environment
– the body and culture
– leadership and followership
– the science of embodiment
– what "second generation" embodiment training is
– what distinguishes OK from great embodied trainers
– EFC course description
– Open Q & A
With Mark Walsh and Francis Briers
Mark Walsh has dedicated his life to embodied learning. He set up the training company Integration Training – the first European embodied business specialists – eight years ago. He has taught embodiment in 25 countries and founded The Embodied Facilitator Courses and Embodied Yoga Principles. He also made embodiment freely available online through a Youtube channel with over 8 million hits and created the first online learning package of embodied training. His qualifications include an honours degree in psychology, an aikido black-belt, residential training with various bodymind masters including his mentor Paul Linden; has training in linguistics, NonViolent Communication, body-psychotherapy, improvisation, meditation/mindfulness, dance and ten martial arts. His clients include Unilever, L'Oreal, Virgin Atlantic, AXA, Shell, Newfield coach training, Liberty Global, Sussex University and The House of Lords. He has also worked with peace and trauma projects in Israel/Palestine, Afghanistan, Ukraine the slums of Brazil, East Africa and with the Sierra Leonian Army.
Francis Briers is one of Europe's leading 'embodied' trainers. He has worked alongside Mark Walsh at Integration Training for the past five years, an organisation which specialises in Embodied Leadership and facilitation work. His qualifications include: an honours degree from one of the UK's top drama schools; training in a range of martial arts (including 3rd Dan black belt in Karate); extensive dance and movement work including 5 rhythms, Alexander technique in movement, and Uzazu Embodied Change Facilitation; Hawaiian Temple Style massage practitioner; currently the only Samurai Game facilitator in the UK; and deviser of the 'Somatic Presence' approach to embodied coaching.  His clients include Hewlett Packard, HSBC, The Met Police, LexisNexis, The Academy for Chief Executives, The Global Leaders Academy, and Roffey Park. He is also a trained Interfaith Minister and Spiritual counsellor who has studied spiritual practices and perspectives from around the world. He has published 2 books on personal development and is known for creating learning that balances depth and play, challenge and safety.
Pre registration required – mail mark@integrationtraining.co.uk for login details